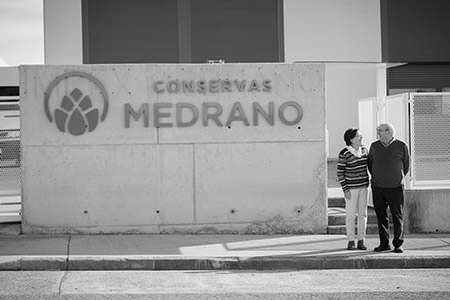 The love to our land is cultivated day after day, generation after generation. Like the attachment to the roots that define our identity. This is how the history of Conservas Medrano has been shaped since, in 1986, José Luis Medrano and Pilar Muñoz founded in Tudela Food Export, a company that exported canned food from the Ribera de Navarra.
José Luis always had the soul of an entrepreneur. That is why he created his own personal project, which grew at the same rate as the youngest members of his family were coming to life. Ten years later, Food Export also entered the import field, which is why it changed its name to IMPEX Medrano.
Until at the beginning of 2000, his sons Javier and Álvaro, today sales manager and production director respectively, joined the project and helped to promote new challenges. The company, like the most precious vegetables in the Navarra garden, matured with care and dedication. This is how Vencerol was born, the brand that served to start selling its own canned food; new facilities were inaugurated in Tudela, with 4,000 square meters. In 2011, the Deliconservas factory in Lekunberri, specialized in seafood dishes from the Basque Country, was acquired.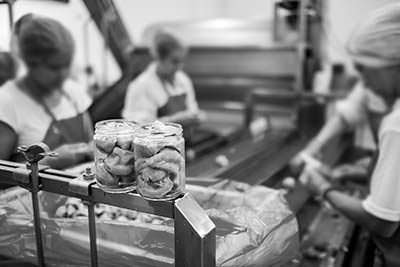 The family later expanded the Ribera delegation to the current 7,500 square meters to enrich its menu of elaborate dishes and begin the production of artichokes with the IGP Tudela, asparagus with the IGP Navarra, peppers with the apellation of origin Piquillo de Lodosa and organic preserves. For this reason, in 2018, the company was renamed Conservas Medrano, which a year later would become the largest artichoke producer with the Tudela IGP.
This affection for the service of small details was rewarded when José Luis received the Alimenta Navarra 2019 Award in the Career and Business Development category. Because today, Conservas Medrano is a hotbed of excellence. Thanks to its traceability system and its exhaustive controls and processes, endorsed by the IFS (International Food Standard) , it is constantly evolving to respond to new trends in food and to offer a rich range of products, which they retain their most traditional essence.